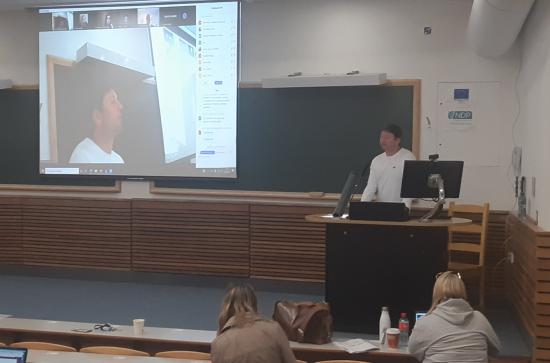 Thursday, August 4, 2022 - 09:30
The third Legal Histories of Empire Conference, entitled 'Beyond the Pale: Legal Histories on the Edges of Empires' was hosted by the Maynooth University School of Law and Criminology from 29 June – 01 July 2022 in the John Hume Building, North Campus.
Mammoth work was undertaken by the organising committee (Lyndsay Campbell (Calgary), Donal Coffey (Maynooth), Shaunnagh Dorsett (UTS), David Doyle (Maynooth), Pooja Parmar (UVic), and David V Williams (Auckland)) in putting together the extremely successful "hybrid" conference, with speakers attending both in person, and through Zoom from locations across the world, including as far flung as Australia, India, Nigeria, Argentina, Chile, the US, Israel, Seoul, and Hong Kong. Generous bursaries were offered by the Max Planck Institute for Legal History and Legal Theory to allow scholars to present their work who may not have been able to.
The conference focused on the interconnections and the legal relations between empires and the role played by law in facilitating, constituting, and enabling those connections; on the people of law who moved between these places; and the institutions which bound them together.
Along with the keynote panel composed of speakers Jane Ohlmeyer, Richard J Ross, and Philip Stern which addressed 'Anglicisation of and through law in British America, Ireland, and India, c.1550-1800', and panels which addressed the theme generally, the following streams offered a fascinating insight into the legal threads that bound different empires, places, laws, and legal traditions across the globe:
Intellectual Property in Empire, chaired by Prof Isabella Alexander,
The Maritime World in Legal History, chaired by Prof Diane Kirkby,
Indigeneity, Law and Empires, chaired by Prof Pooja Parmar, and
Legal Transfer in the Common Law World, chaired Prof Stefan Vogenauer and Dr Donal Coffey.As Campbell observed in her closing remarks, a number of themes emerged from the papers – including the transfer of legal practices and knowledge through texts, the importance of the interpretation of those texts, constitutionalism, and emerging technologies of law.
The conference attracted over one hundred speakers, and engaging Q&A sessions and discussions followed each panel, with lively debate on topics ranging from the law of real property and charter corporations to legal innovations, and a reflection on oceans, how they connect us, how law has affected those who made their lives and livings on the water and moved among legal regimes as a result.