MAP My Way
The MAP Student Advisory Service runs MAP My Way, an ongoing support over the course of the semester in collaboration with MAP Ambassadors, to aid the smooth transition of new students to university. MAP My Way is delivered via targeted sessions that are designed to create a positive first-year experience by supporting students to:
build connections, make friends and get involved in the wider social aspects of university life,
develop strategies to engage with key university supports as required,
cultivate key academic and organisational skills needed to succeed at Maynooth University.
MAP My Way (27 September - 7 December 2023)
You are invited to come along to MAP My Way which takes place weekly throughout the semester with a range of fun, interactive, useful weekly get-togethers with MAP Ambassadors and students. Each week will focus on different information and skills that you can develop to help you succeed at University. These include connecting with MAP, getting started with the MILO learning platform to support writing assignments, using the Maynooth technology tools and minding your mental health.We are also marking the 25th anniversary year of MAP with some MAP themed activities.
You don't need to book in or worry about coming late. You can just show up at any time to An Tobar (the ground floor in the Student Services building, North Campus).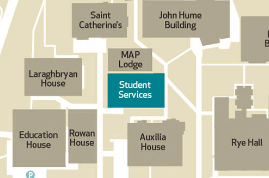 Check back here regularly and follow us on Instagram (@map_mu) to find out what's happening in MAP My Way each week! See you soon!

DATE

MAP MY WAY

PLACE &
TIME

Week 1: Wednesday 27 September

CONNECT WITH MAP

An Tobar
12pm-2pm

Week 2: Wednesday 4 October

GET STARTED WITH TECH IN MU

12pm-2pm

Week 3: Tuesday 10 October

JOINING CLUBS & SOCIETIES

Online Campaign

Week 3: Wednesday 11 October

LET'S GET STARTED WITH MILO

12pm-2pm

Week 4: Wednesday 18 October

MILO: HOW TO START AN ASSIGNMENT

12pm-2pm

Week 4: Wednesday 18 October

TECH SUPPORT: WRITING AN ASSIGNMENT

12pm-2pm

Week 5: Wednesday 25 October

MONEY MATTERS

12pm-2pm

Week 5: Thursday 26 October

MILO: HOW TO START AN ASSIGNMENT (2) &
TECH SUPPORT: WRITING AN ASSIGNMENT (2)

12pm-2pm

STUDY WEEK

Week 7: Wednesday 8 November

MILO MINDING YOUR MIND & MENTAL HEALTH SUPPORTS

12pm-2pm

Week 7: Thursday 9 November

MONEY MATTERS (2)

12pm-2pm

Week 8: Wednesday 15 November

STUDY SKILLS: STUDYING WITH TECH

12pm-2pm

Week 9: Wednesday 22 November

EXAM PREPARATION: MAKING THE MOST OF IT – TIME MANAGEMENT

12pm-2pm

Week 9: Thursday 23 November

MAP COFFEE MORNING/BRUNCH

12pm-2pm

Week 10: Wednesday 29 November

TECHNOLOGY FOR EXAMS

12pm-2pm

Week 11: Wednesday 6 December

EXAM PREP: MAKING THE MOST OF IT (2)

12pm-2pm

Week 11: Thursday 7 December

CHRISTMAS GET TOGETHER

12pm-2pm

END OF SEMESTER 1
For any queries about getting into the swing of your first year, get in touch by email or on Instagram @map_mu. You can also drop by without an appointment during the MAP Student Advisory Drop-In times every weekday between 12pm-2pm at MAP Lodge on North Campus to have a chat with a MAP Student Advisor.