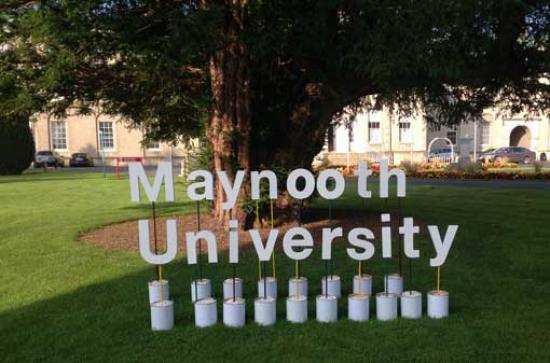 Wednesday, February 11, 2015 - 00:00
MAYNOOTH UNIVERSITY Athletics club celebrated a major win at the Irish Universities Athletics Associations Indoor Championships on Friday last (Feb 6th) in Athlone IT.
Club stalwart Lisa Houlihan held off some stiff competition to take first place in the Women's Pole Vault event with a height of 2.6metres, achieved on her third jump in the fifth round of the final.
Waterford native Lisa has represented the university for a number of years and was thrilled to finally grab the title after a couple of near misses in recent years.
"It's great to win this competition and on the day my brother Thomas won the Men's competition as well so it was good to get a double in the family. My older brother had won that title as well so it was nice to keep it in the family!
It was great because I had won second and third in the competition, and the competition was quite close between myself and the other girls... the girl who was second Amy Phelan from IT Carlow, I have been competing with her for years and we're always neck and neck. It was on the last attempt, the third go at the height that I got the winning jump on so it really went down to the wire," Lisa explained.
Lisa, a Masters student, who also completed her undergraduate degree in Irish and Geography in Maynooth University was fulsome in her praise for her own coach, Brother Patrick Lennon, who has been guiding her since secondary school, and she has plans herself to follow in his coaching footsteps at some point she revealed.
"I have another year in the Froebel Department of Primary and Early Childhood Education, and at the moment training has taken a back seat because it is an intense course but I love it, it's always been what I wanted to do. I've started doing my coaching courses, coaching other athletes. I'm never going to leave the athletics go though. I represented the university for the IUA in Scotland last year and that was great to represent the university for that. I'll always keep it up and keep competing but I like the whole coaching end of things now."
The IUAA title completed a second and third level double for the West Waterford AC athlete, having captured the Irish Senior Post Primary title in 2011 for St Augustine's College, Dungarvan.
"Leaving Cert was a very eventful year because in that February I picked up a bad injury. During the Mocks, the National Seniors were on in Belfast, I fell, did really bad damage to my ankle so I was out for a good remainder of the Leaving Cert. Mam always says it was the best thing that could have happened me! But my aim to finish off my schools athletics [career] was to win the Senior Girls title. I came back, I remember starting training the week before the qualifications rounds, and I had good days and bad days- with the pole vault, it is such a mind game, it can play on you especially when the heights are going up. But I won the title which I was delighted with."
Lisa was for a long time one of the main driving forces behind Athletics in Maynooth University and although she has taken a step back from the administration, she is still closely involved and believes that the recent link-up with Le Chéile AC in Leixlip has brought the club on leaps and bounds already.
"The club was always there, but when I was started I was going training on my own, when I was going to competitions, I was taking it on myself to email and ask could I be entered into competitions and I'd go there myself, or Mam might drive me. I sometimes went with my brother who was with another college and I would hang out with them for the day.
Even though everyone was really helpful, particularly Paul Davis, and Pamela (Lucas) in the Sports Office, it was still lonely when you're going out training on your own,. So I decided in my second year that I was really going to work at the [Athletics] club and put structure to it. It is still growing and it is slow but we are getting there. I'm not so much involved now but I'm still always in contact with everyone and Heywood Richardson is the president now and I'd always say if you need any advice don't be afraid to contact me because I know how tough it is being involved in a club and trying to keep up your training and your college work at the same time."