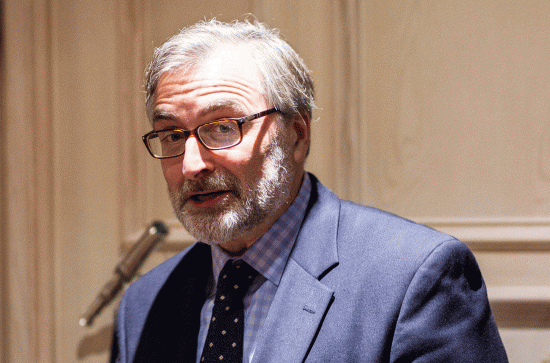 Arts Building
12
(01) 708 3575
A native of Germany, where I grew up in the Westphalian town of Paderborn, I hold advanced degrees from the Queen's University of Belfast (MA), from the Université catholique de Louvain (LicPhil and DPhil), and from the National University of Ireland (DLitt). I joined Maynooth University in January, 2018, after twenty years of teaching and research at the University of Dallas.

My scholarly interests are situated at the intersection of the Western Christian tradition and contemporary, 'post-modern' thought. My doctoral dissertation, which was devoted to the metaphysics of Thomas Aquinas, already carried a Heideggerian subtitle:
A 'Repetition' of Scholastic Metaphysics
. This was followed by a French book that looked at Aquinas through a Lacanian lens, and then by an attempt to sketch out a Foucauldian methodology for the study of Scholastic thought:
Understanding Scholastic Thought with Foucault
.
Over the last decade, I spent much time on research concerning Peter Lombard, the author of the celebrated
Book of Sentences
, which over several centuries served as the standard textbook of theology. Thus, my work took a more 'theological turn'. In particular, I approached the
Book of Sentences
as a powerful case illustrating how traditional rationality unfolds in the interpretation of texts.
My current work fuses these post-modern and theological strands. It is concerned with the relationship between tradition and transgression, the latter understood etymologically as a 'stepping across' and challenging of boundaries. My new book on this topic carries a title that is inspired by Foucault:
Charred Root of Meaning: Continuity, Transgression, and the Other in Christian Tradition
. It is forthcoming from Eerdmans.
I am also the founding editor, and now co-editor, of the series '
Dallas Medieval Texts and Translations
'.
Year
Publication
2018
Charred Root of Meaning: Continuity, Transgression, and the Other in Christian Tradition.
Philipp W. Rosemann (2018) Charred Root of Meaning: Continuity, Transgression, and the Other in Christian Tradition. Grand Rapids, Michigan: Eerdmans. [Details]
2012
Robert Grosseteste at Munich: The 'Abbreviatio' by Frater Andreas, O.F.M., of the Commentaries by Robert Grosseteste on the Pseudo-Dionysius.
James McEvoy & Philipp W. Rosemann (2012) Robert Grosseteste at Munich: The 'Abbreviatio' by Frater Andreas, O.F.M., of the Commentaries by Robert Grosseteste on the Pseudo-Dionysius. Louvain: Peeters. [Details]
2007
The Story of a Great Medieval Book: Peter Lombard's 'Sentences'.
Philipp W. Rosemann (2007) The Story of a Great Medieval Book: Peter Lombard's 'Sentences'. Toronto: Toronto University Press. [Details]
2004
Peter Lombard.
Philipp W. Rosemann (2004) Peter Lombard. New York: Oxford University Press. [Details]
1999
Understanding Scholastic Thought with Foucault.
Philipp W. Rosemann (1999) Understanding Scholastic Thought with Foucault. New York/London: St Martin's Press/Macmillan. [Details]
1996
Omne ens est aliquid. Introduction à la lecture du 'système' philosophique de saint Thomas d'Aquin.
Philipp W. Rosemann (1996) Omne ens est aliquid. Introduction à la lecture du 'système' philosophique de saint Thomas d'Aquin. Louvain: Peeters. [Details]
1996
Omne agens agit sibi simile: A 'Repetition' of Scholastic Metaphysics.
Philipp W. Rosemann (1996) Omne agens agit sibi simile: A 'Repetition' of Scholastic Metaphysics. Louvain: Leuven University Press. [Details]
1990
Alltagssprachliche Metakommunikation im Englischen und Deutschen.
Werner Welte & Philipp Rosemann (1990) Alltagssprachliche Metakommunikation im Englischen und Deutschen. Frankfurt am Main: Peter Lang. [Details]
 
Year
Publication
2018
'Peter Lombard'
Philipp W. Rosemann (2018) 'Peter Lombard' In: Luc Courtois (eds). Dictionnaire d'histoire et de géographie ecclésiastiques, 189b-190. Turnhout: Brepols. [Details]
Year
Publication
2015
Mediaeval Commentaries on the 'Sentences' of Peter Lombard, vol. 3
Philipp W. Rosemann (Ed.). (2015) Mediaeval Commentaries on the 'Sentences' of Peter Lombard, vol. 3 Leiden: Brill. [Details]
2010
Mediaeval Commentaries on the 'Sentences' of Peter Lombard, vol. 2
Philipp W. Rosemann (Ed.). (2010) Mediaeval Commentaries on the 'Sentences' of Peter Lombard, vol. 2 Leiden: Brill. [Details]
2004
Amor amicitiae—On the Love that is Friendship: Essays in Medieval Thought and Beyond in Honor of the Reverend Professor James McEvoy
Thomas A. F. Kelly & Philipp W. Rosemann (Ed.). (2004) Amor amicitiae—On the Love that is Friendship: Essays in Medieval Thought and Beyond in Honor of the Reverend Professor James McEvoy Louvain: Peeters. [Details]
1997
Éditer, traduire, interpréter: essais de méthodologie philosophique
Steve G. Lofts & Philipp W. Rosemann (Ed.). (1997) Éditer, traduire, interpréter: essais de méthodologie philosophique Louvain: Peeters. [Details]
1996
Business Ethics in the African Context Today
Michel Lejeune & Philipp W. Rosemann (Ed.). (1996) Business Ethics in the African Context Today Kampala: Uganda Martyrs University Press. [Details]
 
Year
Publication
2019
'Charred Root of Meaning: Rupture and Continuity in Christian Tradition'
Philipp W. Rosemann (2019) 'Charred Root of Meaning: Rupture and Continuity in Christian Tradition'. Irish Theological Quarterly, 84 (1):3-21 [DOI] [full-text] [Details]
2019
'El dinero como clave del mundo: la filosofía de Georg Simmel'
Philipp W. Rosemann (2019) 'El dinero como clave del mundo: la filosofía de Georg Simmel'. Estudios, 17 (129):15-47 [DOI] [full-text] [Details]
2018
'God and Mammon: Fundamental Structures in Georg Simmel's Philosophy of Money'
Philipp W. Rosemann (2018) 'God and Mammon: Fundamental Structures in Georg Simmel's Philosophy of Money'. Philotheos: International Journal for Philosophy and Theology, 18 (1):57-77 [DOI] [Details]
2018
'Leonard Cohen, Philosopher'
Philipp W. Rosemann (2018) 'Leonard Cohen, Philosopher'. MAYNOOTH PHILOSOPHICAL PAPERS, 9 :1-20 [DOI] [full-text] [Details]
2017
'What is Philosophy?'
Philipp W. Rosemann (2017) 'What is Philosophy?'. Philotheos: International Journal for Philosophy and Theology, 17 :5-17 [DOI] [full-text] [Details]
Year
Publication
2018
Review of W. Beierwaltes, Catena aurea.
Philipp W. Rosemann (2018) Review of W. Beierwaltes, Catena aurea. Leuven: Book Review [Details]
Monograph:- Peer Reviewed
Year
Publication
1999
Africa as the 'Other' of the West: Problems, Challenges, Chances.
Philipp W. Rosemann (1999) Africa as the 'Other' of the West: Problems, Challenges, Chances. Kampala: Monograph:- Peer Reviewed [Details]