Vice-President for Research and Innovation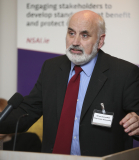 Professor Brian Donnellan
is Vice President of Research and Innovation, and Professor of Management Information Systems at Maynooth University. Previous senior management positions in Maynooth University include Vice President of Engagement and Innovation, Vice President and Dean of International Affairs and Academic Director of the Innovation Value Institute.
A native of county Clare, he graduated from University of Limerick with a B.Eng in Electronic Engineering, an MBA and PhD in Computer Science and Information Systems.
Prior to becoming an academic, he spent 19 years working in the ICT industry, where he led groups responsible for Engineering Systems Support for New Product Development.
Brian's current activities include:
Chairman of the All-Ireland Smart Cities Forum and executive board member of the Irish Centre for Local and Regional Development (ICLRD). Co-Principal Investigator in the Irish Software Research Centre, "LERO" and The Smart Cities Research Centre, "ENABLE". Funded Investigator in the Research Centre for Advanced Manufacturing, "CONFIRM" and the Centre for Future Networks and Communications, "CONNECT".
Brian's research interests include Technology Adoption, Innovation Management and Data Governance and his teaching interests include IT-enabled innovation and Technology Management.
The Research Development Office supports the University's research community by providing guidance on grant applications, proposal preparation, external funding, ethical and compliance issues.
The Commercialisation Office sustains the University's technology transfer activity, supporting the protection of the University's intellectual property, and linking researchers, industry and enterprise.