Vice-President for Research and Innovation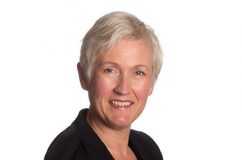 Professor Rachel Msetfi is Vice President for Research and Innovation at Maynooth University. She is responsible for leading the development and implementation of the University's research and innovation strategy, has overall responsibility for research policy and administration, ensuring that the research ecosystem at MU supports our researchers to fulfil their potential.
This includes the Research Development Office which supports the University's research community by providing guidance on grant applications, proposal preparation, external funding, ethical and compliance issues. In addition, MaynoothWorks sustains the University's technology transfer activity, supporting the protection of the University's intellectual property, and linking researchers, industry and enterprise.
The VPRI oversees the multi-disciplinary research centres and institutes, strategic research initiatives and partnerships, research infrastructure and administration in Maynooth University. Research institutes include:
Maynooth University Arts and Humanities Institute
Maynooth University Hamilton Institute
Kathleen Lonsdale Institute for Human Health Research
Maynooth University Social Sciences Institute

Professor Msetfi received a BSc in Psychology and PhD in Cognitive Psychology at the University of Hertfordshire. Her research interests lie in the area of perception, learning and behaviour in healthy people and vulnerable groups, including people who have symptoms of mental health disorders. Rachel has expanded her core research programme to explore the effects of the environment on judgements and decision making, the use of mobile technology for the delivery of psychological interventions for individuals and groups, together with aspects of culture and social constraints that impact perceived control and mental health.