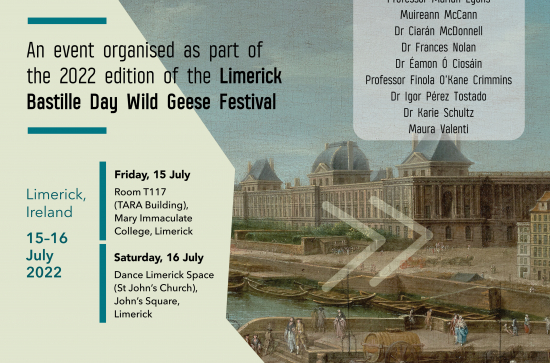 Thursday, July 14, 2022 - 12:15
Thousands of Irish migrants travelled to continental Europe in the sixteenth, seventeenth and eighteenth centuries. Limerick occupies a particularly important place in the history of the 'Wild Geese'. In the immediate aftermath of the Treaty of Limerick (1691), 15,000 soldiers and an estimated 4,000 civilians (mainly women and children), left Ireland for France. This was, however, part of a much wider movement of people – soldiers, students, priests, merchants, the poor; men, women and children – who moved from Ireland to France, Flanders, Spain, Portugal, the Italian states, the Holy Roman Empire, and elsewhere between the 1500s and the early 1800s. Many Irish migrants also moved beyond Europe, into the expanding Spanish, Portuguese and French Empires.
This conference – Wild Geese: Irish Migrants in Early Modern Europe – brings a group of historians and speakers to Limerick to consider the latest research on the 'Irish in Europe', as well as to reflect upon the links between Ireland's history of migration and the nature of migration in Ireland today.
The conference is organised as part of the 2022 edition of the Limerick Bastille Day Wild Geese Festival, an annual event co-organised by Alliance française Limerick and the Limerick Civic Trust commemorating the Flight of the Wild Geese and celebrating the friendship between France and Ireland. The Wild Geese 2022 conference is generously funded by the Irish Research Council through a New Foundations award.