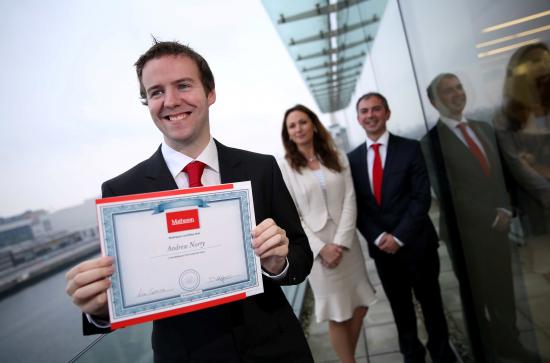 Tuesday, November 5, 2013 - 00:00
Investment Funds Industry Offers Job Opportunities for Award-Winning Graduates
Two students have won awards for their work during an innovative new funds law course taught at Maynooth University Department of Law. The investment funds industry is a growth area for jobs in Ireland, employing about 12,000 people. Maynooth University Department of Law hopes that its new funds law course, launched earlier this year, will open opportunities for its graduates.

Andrew Norry and Tomás Nolan were presented with their awards on 30 September 2013 at the offices of Dublin law firm Matheson. Andrew Norry won the prize for best overall student, winning a 6-month internship at Matheson.

Andrew said, "For my generation of graduates, jobs are hard to find, so I am delighted to get such a great start on the career ladder. The investment funds industry is an area of real opportunity for Irish graduates and it's great to have taken part in the first funds law course ever taught in an Irish university."

Maynooth University Department of Law partnered with Matheson to create the first-ever funds law module available at an Irish university earlier this year. In a unique collaboration between academia and industry, Liz Grace of Matheson designed the course and taught the students at Matheson's docklands headquarters every week. She is Visiting Professor in Funds Law at Maynooth University Department of Law.

Tomás Nolan, who won the €500 best-essay prize, said, "The funds law course was extremely well organised and delivered. It provided valuable practical insights into an area of law which is becoming increasingly important in Ireland. I feel the course will be very beneficial to my future career."

Matheson's Liz Grace said, "Ireland is recognised as a centre for excellence and innovation in the investment funds sector. Partnerships such as this between academia and industry are a vital investment for Ireland to grow its expertise into the future, to support our graduates' employment prospects and to give them the knowledge and skills necessary to succeed in the financial services sector".

Michael Jackson of Matheson's Asset Management and Investment Funds Group presented the awards. He said: "Matheson is proud to be associated with the first funds law course in an Irish university. We were impressed with the enthusiasm and dedication of the students and congratulate Andrew and Tomás on their achievements. Funds law is an increasingly important and developing area of the law in Ireland and we are pleased that Maynooth University has recognised this."

Professor Michael Doherty, head of Maynooth University Department of Law said, "We are delighted to have partnered with Matheson on this unique course. The innovative nature, and global focus, of the course fits exactly with our vision of the Law Department at Maynooth University. We are immensely proud of the two successful students."

The funds law module formed part of the Master of Laws Degree and the Master of International Business Law Degree offered by Maynooth University Department of Law.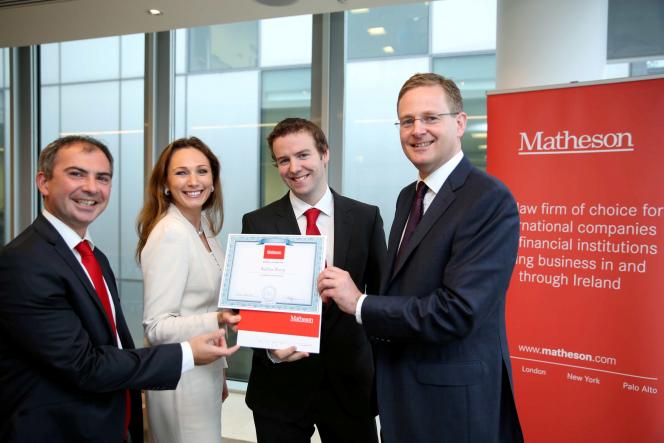 Professor Michael Doherty, Head of Maynooth University Department of Law; Liz Grace, Matheson, Visiting Professor in Funds Law; Andrew Norry, Winner Matheson Funds Law Intern 2013; and Michael Jackson, Head of Matheson's Asset Management Group