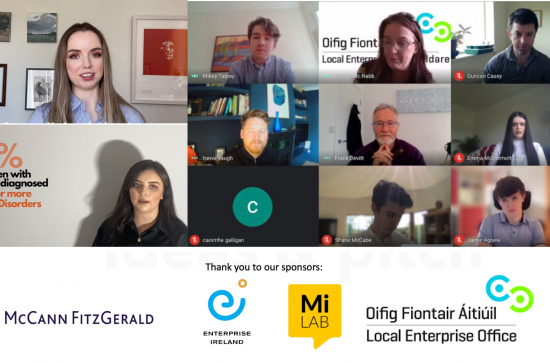 Thursday, April 29, 2021 - 15:45
Last Friday, the EDEN Centre for Entrepreneurship, Design and Innovation hosted the final event of their annual Ideas&Pitch Entrepreneurial Competition 2021.
For the second year in a row, the competition was hosted online, with 20 participants joining on the day from a wide range of subject disciplines in the virtual room with twelve shortlisted projects for the judging panel to assess.
Our Judging Panel (comprised of Jacqui McNabb, Head of Enterprise at Local Enterprise Office, Kildare; Dr Duncan Cassey, director of MaynoothWorks; Frank Devitt, associate professor with the department of Design Innovation and Trevor Vaugh assistant professor with Mi:Lab ) commented on the high calibre of entrants and the innovation shown in their ideas.

The Ideas&Pitch Competition carries a prize fund of €10,000 and we are indebted to the joint sponsors; McCann Fitzgerald and Local Enterprise Office, Kildare for supporting this competition and continuing to encourage our student's entrepreneurial mind-set. We were also very grateful to have support from Enterprise Ireland and Mi:Lab this year.
Congratulations to the winning projects:
In fourth place, Grace Angela Hyland Martin receives €500 for her project BopOn.
In third place, Mark Pearson receives €1,500 for his project Cervello.
In second place, Jamie Agnew receives €3,000 for his project Clicklock.
And the big prize went to Shane McCabe who receives €5,000 for his project Lighten - caring for carers.
All winners also receive mentorship from the Kildare Local Enterprise experts

"Congratulations to all the participants; it was a very tough competition at a very high standard and a difficult task to decide the winners!"
Dr Aldo Valencia – Academic Lead of the Centre for Entrepreneurship, Design and Innovation

"I am delighted that students from across Maynooth University have participated and have reached this year's highly competitive finals. Their achievement shows the depth of creative ingenuity and resilience that has been nurtured through the EDEN programme to overcome and meet the challenges of today's dynamic environment."
` Dr Iain Macdonald - Associate Professor, Head of Department Design Innovation